TechAide Montreal's funding jumped by nearly 70% in 2020
TechAide Montreal's funding jumped by nearly 70% in 2020
---
Amid all the obstacles of 2020, the TechAide Montreal charity raised $647,135 in funding in 2020, 69 percent more than in 2019.
In a blog post, the charity group noted "with no in-person events as of March, 2020 required a new level of commitment and creativity."
The group hosted its third TechAide AI Conference and the AI4GOOD Hackathon in November, completely virtually.
As well, the TechAide Café launched in June as an experiment to help people network online. The Café hosted guests every few weeks through December. TechAide also hosted an online Python course in July.
The group's sole in-person events included the second edition of the Soccer Tournament and the Kick-off Cocktail at Notman House.
TechAide also drove two fundraising initiatives, the Corporate Campaigns and the TechAide Leaders Program.
All of these events served to generate cash for TechAide, which goes to charity.
Where does the money go to?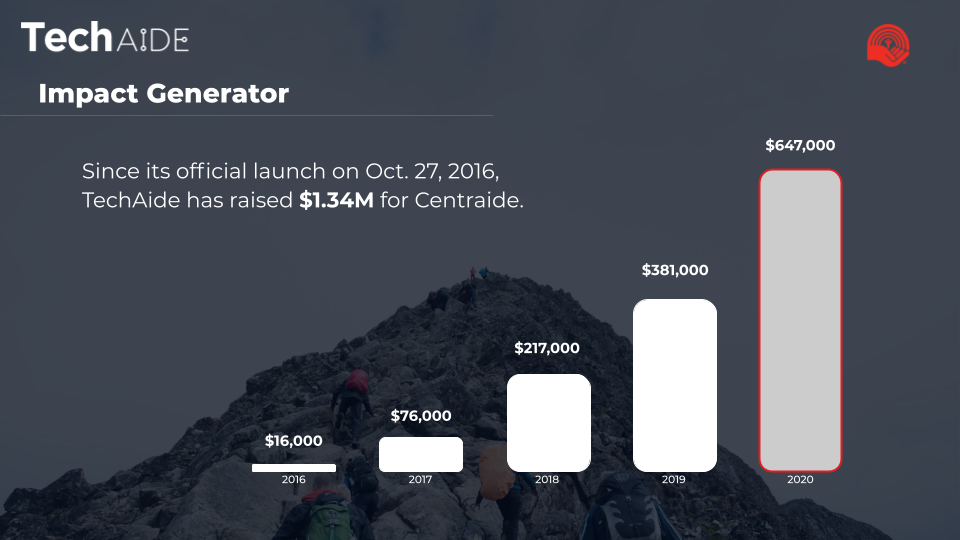 About 17 tech executive ambassadors in Montreal help create events under the TechAide banner, led by founder Alan MacIntosh.
The proceeds from TechAide events go to Centraide of Greater Montreal, which raises money and invests it among 350 local non-profits. It's mission is to "break the cycle of poverty and social exclusion." Centraide was initially founded in 1966.
Last year we wrote about The Depot, an NDG-based non-profit that received help from over 1,000 volunteers. The Depot gets about 16 percent of its annual budget from Centraide.
But tough times hit the non-profit as a result of COVID, said director Daniel Rotman. Demand for their food boxes skyrocketed and they burned through half a year's total food in one month.
This is a place where TechAide's cash is actually helping people on the streets of Montreal that need it.
"While volunteering for businesses and organizations is important, really the most effective way to support a community organization is giving money. It might not be the feel-good story, but it's the most efficient way. It's probably the best return on your investment in supporting organizations," said Rotman.
TechAide great year is a positive sign
The group's big 2020 indicates that, despite the very tough times for Montrealers, people showed no sign of slowing down their willingness to donate.
TechAide wrote "from a simple idea in 2016… connecting the very different worlds of audacious tech founders with inspirational social impact agency leaders, TechAide is building momentum."
---
Want more news on Montreal tech and startups? Head to MTLinTECH