When:
November 8, 2019 @ 6:00 pm
2019-11-08T18:00:00-05:00
2019-11-08T18:15:00-05:00
Where:
Mila - Quebec AI Institute
6666 Rue Saint-Urbain Montréal
QC H2S 3H1 Canada
About this Event
Pharmahacking in Montreal
Following the success of the Pharmahackathon 2018, InVivo AI/StudentPharma are proud to partner with MILA to bring to you a three-day event filled with workshops, networking opportunities with industry leaders and experts and the chance to compete for prizes by applying Machine Learning/Deep Learning to solve current challenges in the pharmaceutical field!
Our goal is to foster an environment of innovation and collaboration by bringing in students and experts from multiple fields and allowing them to work together and bridge the gap between the pharmaceutical sciences and computer technologies.
For Learners
The following workshops will hosted by the McGill Initiative in Computational Medicine:
1) Introduction to Python
2) Data Visualization in R
This will take place on Saturday, November 9th, from 9 AM to 11 AM.
If you wish to attend the workshops, please select the WORKSHOP tier ticket!
*Please note that the WORKSHOP ONLY ticket does not give access to the competition. *
For Competitors
The participant(s) will be confronted with challenges that the pharmaceutical industry are currently facing and will be given the task to find data driven solution using if possible advanced deep learning techniques. Participants can choose to work as a team or alone.
We would like to thank our sponsors Novartis and Boehringer Ingelheim for kindly providing us with the challenges for our participants.
Prizes to be announced.
Please note that we have an allocated number of slots for Mila students! If you are not a Mila student please choose the 'Non-Mila Student' option. Please note that the workshops will be given priority to those who have registered for the WORKSHOP ticket, as space is limited.
To participate in the competition, please select the COMPETITION tier ticket!
Schedule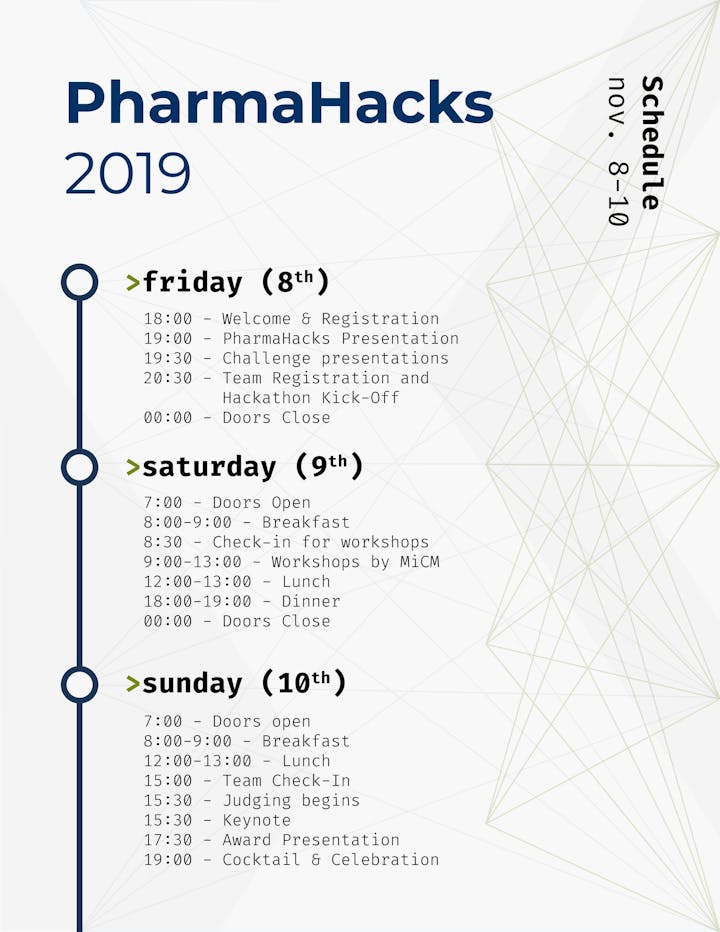 We would like to thank our partners and sponsors for their generosity in making this event possible and FREE for all participants!