Coopérathon 2019 – Édition canadienne | Canadian Edition
---
When:
October 2, 2019 – November 3, 2019
all day
2019-10-02T00:00:00-04:00
2019-11-04T00:00:00-05:00
Inscrivez-vous à la plus grande compétition d'innovation ouverte | Register for the largest open innovation competition across Canada
About this Event

ES-TU UN ACTEUR DE CHANGEMENT ?
En tant que participant du Coopérathon, tu vas :
Apprendre à lancer une start-up d'impact ou un projet à impact
Collaborer avec nos partenaires et commanditaires afin d'avoir un premier client potentiel
Devenir entrepreneur/intrapreneur à travers notre programme flexible et à temps partiel d'une valeur de plus de 5 000 $
Compétitionner pour plus de 100 000 $ de prix en jeu
Faire partie d'une communauté internationale d'acteurs de changement

Chaque année, depuis 2015, le Coopérathon rassemble des milliers de personnes dans un parcours de 25 jours autour d'un seul objectif : créer des projets innovants et à fort impact!
Que tu aies déjà une équipe, que tu sois seul ou encore à la recherche de talents pour rejoindre ton projet; cette compétition est faite pour rassembler les entrepreneurs, etudiants, designers, développeurs, professionnels et experts qui souhaitent passer de l'idée à l'action.
Chaque participant recevra une formation d'une valeur de plus de 5 000 $ et plus de 100 000 $ en prix sont en jeu !
Tout au long de ce parcours, les équipes obtiendront du coaching personnalisé, des ateliers hebdomadaires et un contact privilégié avec des clients et partenaires potentiels pour mener leurs projets vers le succès.
C'est une compétition unique au monde pour te dépasser et atteindre ton potentiel entrepreneurial. Cette opportunité n'arrive qu'une fois par an, inscris-toi maintenant !
L'équipe du Coopérathon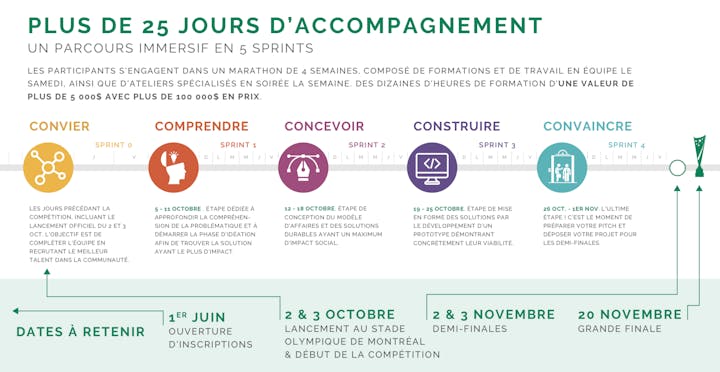 Billetterie :
Pour l'édition 2019, l'ensemble des pays organisateurs du Coopérathon verseront l'argent des inscriptions à l'organisation à but non-lucratif Refugees International. La mission de cette organisation est de porter de l'aide humanitaire aux personnes déplacées par des conflits, de faire respecter les droits de l'homme dans les situations nécessitant une attention urgente et d'inciter des mesures de la part des responsables gouvernementaux.
30 $ Inscriptions Lève-tôt | 15 $ Étudiants
50 $ Prix régulier | 25 $ Étudiants
70 $ Inscription tardive | 35 $ Étudiants
—————————
Pour plus d'information:
Visitez notre site web: cooperathon.ca
Pour toute question: info@cooperathon.com
#cooperathon19

ARE YOU A CHANGEMAKER ?
As a participant of the Cooperathon, you will;
Learn how to launch an impact startup or a project with impact in mind
Collaborate and engage with our partners to get a first potential client
Become an entrepreneur/intrapreneur through our part-time and flexible program worth more than $5000
Be part of a competition with more than $ 100K in prizes
Join an international community of changemakers

Each year, since 2015, the Cooperathon gathers thousands of people in a 25 day program around a single goal: launch innovative projects with a strong impact at their core!
Whether you have your team, are looking for talent or you are by yourself; it's for you! This competition brings together Entrepreneurs, Students, Designers, Developers, Professionals and Experts to form or complement a team to go from Idea to Action.
Each participant will receive a training worth over 5000$ and over 100,000$ in prizes are on the table!
Throughout the 25 days, teams will receive personalized coaching, weekly workshops and exclusive access to potential partners and clients to bring their project to life.
This unique competition in the world allows you to push yourself and reach your entrepreneurial potential. This opportunity only comes once a year so don't miss it and sign up right now!
The Cooperathon team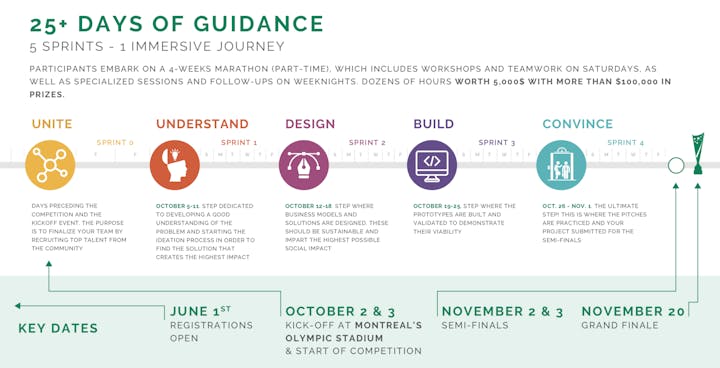 Registration:
For Cooperathon's 2019 edition, all organizing countries will donate the amount of registration fees to Refugees International, an independent nonprofit organization. The mission of this organization is to bring humanitarian aid to those displaced by conflict, to uphold human rights in situations that require urgent attention and to prompt action by government officials.
30$ Early birds | 15$ Students
50$ Regular | 25$ Students
70$ Late birds | 35$ Students